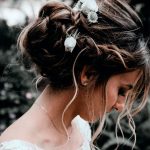 How to do a Messy Bun
Having a messy bun in your hair is the best way in which you can treat your hair without hurting it at all. Eventually, you can also learn the excellent benefits of having this messy bun.
There are some particular ways to do a messy bun, and all of them can be very reliable for people. Also, these buns will stay intact on the hair for a much longer time. For the same reason, they should be tried by everyone, especially those who have long hair, and it becomes difficult for them to handle sometimes.
Types of Messy Buns for Long Hair
Following are some types and tips of how to do a messy bun for long hair read more about all the popular hairstyles.
Funky Messy Bun for Thick Hair
This is a type of event-friendly messy bun that will give style and elegance along with comfort. This type of bun will remain intact on your hair for about 4-6 hours, and that too undoubtedly. You can make this messy bun on any festival or event. Following are the steps for making this bun:
Take all the hair together in your hands.
Make sure that none of them is left behind on your face or back.
Twist your hair slowly in a circular motion till you cover your head with a bun-shaped form.
Tie this bun with a bobby pin or a thin elastic rubber.
A Sexy Bun for Wavy Hair
Wavy hair is much easier to mold with the help of your fingers. For the same reason, women having wavy hair should try these buns for their hair. Some specific steps to make these buns work for women are:
Make a big pony of all the hair together and tie it properly on as high height as possible.
Apply a spray on the hair from the lower side to pile the hair together, and then start twisting it to form a bun.
Tie this bun then and adequately remove some loose hair without disturbing the tight ones at all.
Your sexy bun for wavy hair is ready in just 4-5 minutes.
All the above ways to make a messy bun can be best suited for women in all types of festivals. You can spread your charm in the best possible way with the help of these buns and will not have to work hard on them as well.